Free U.S. shipping on all orders over $35! (No code needed.)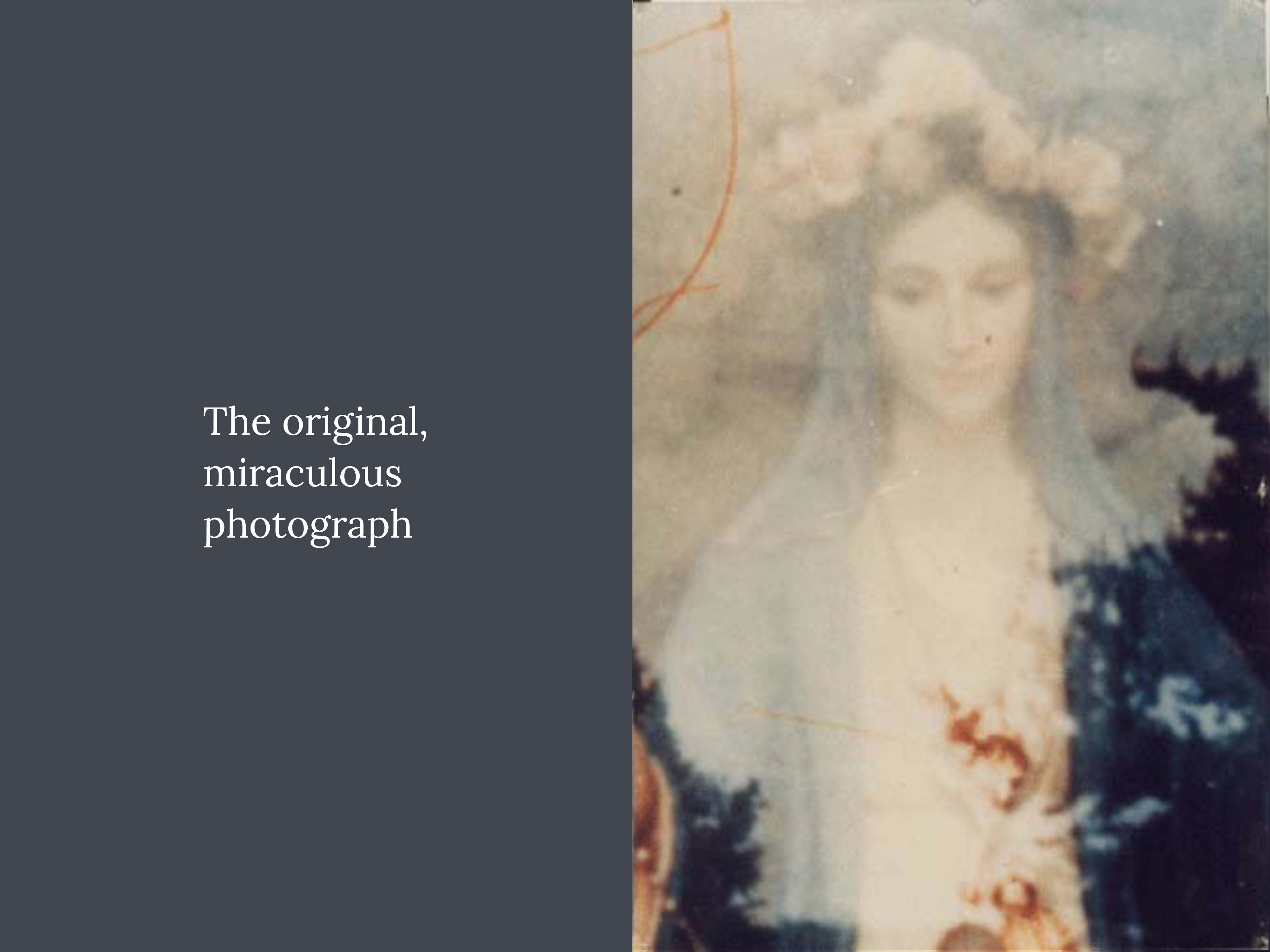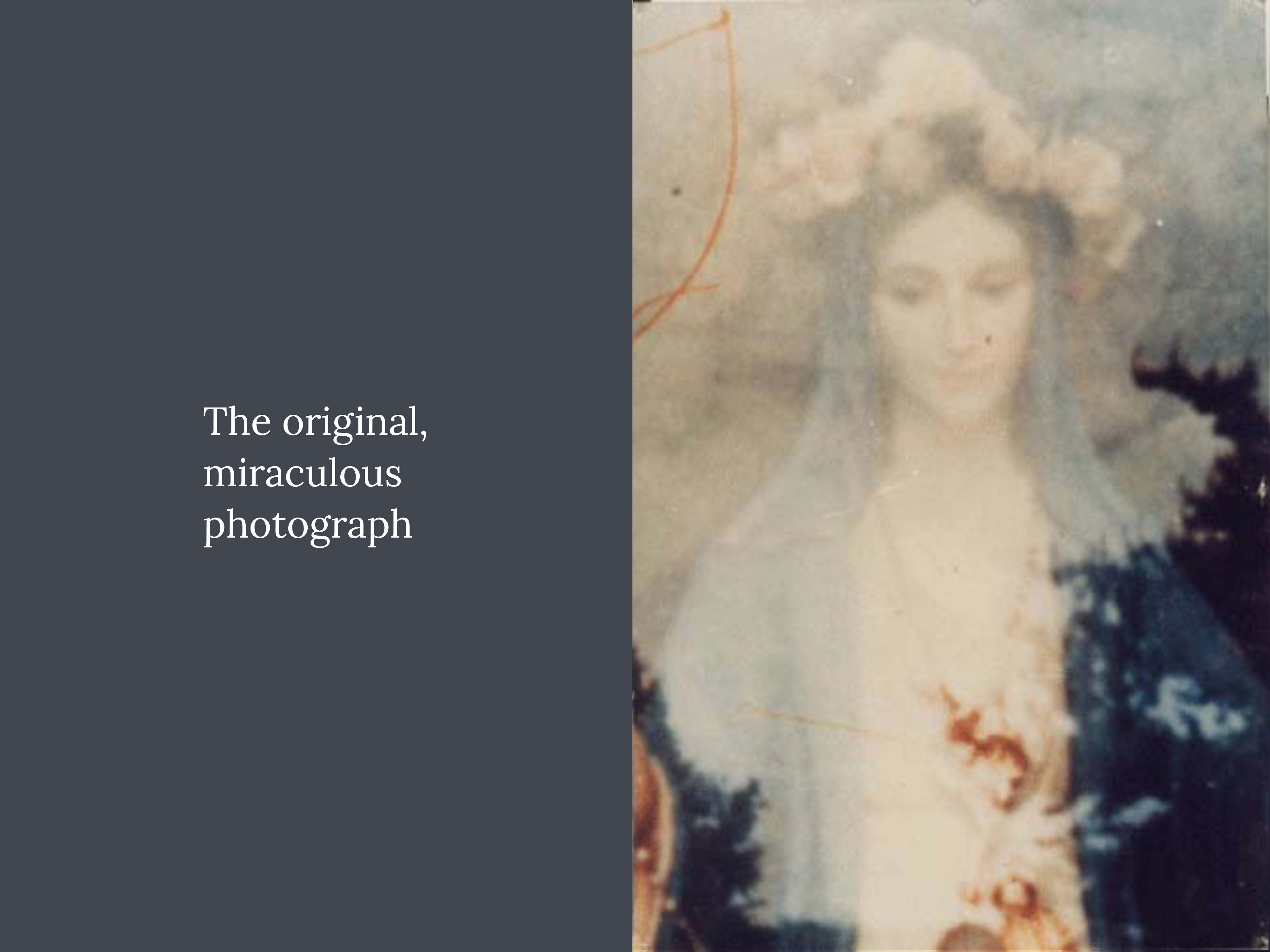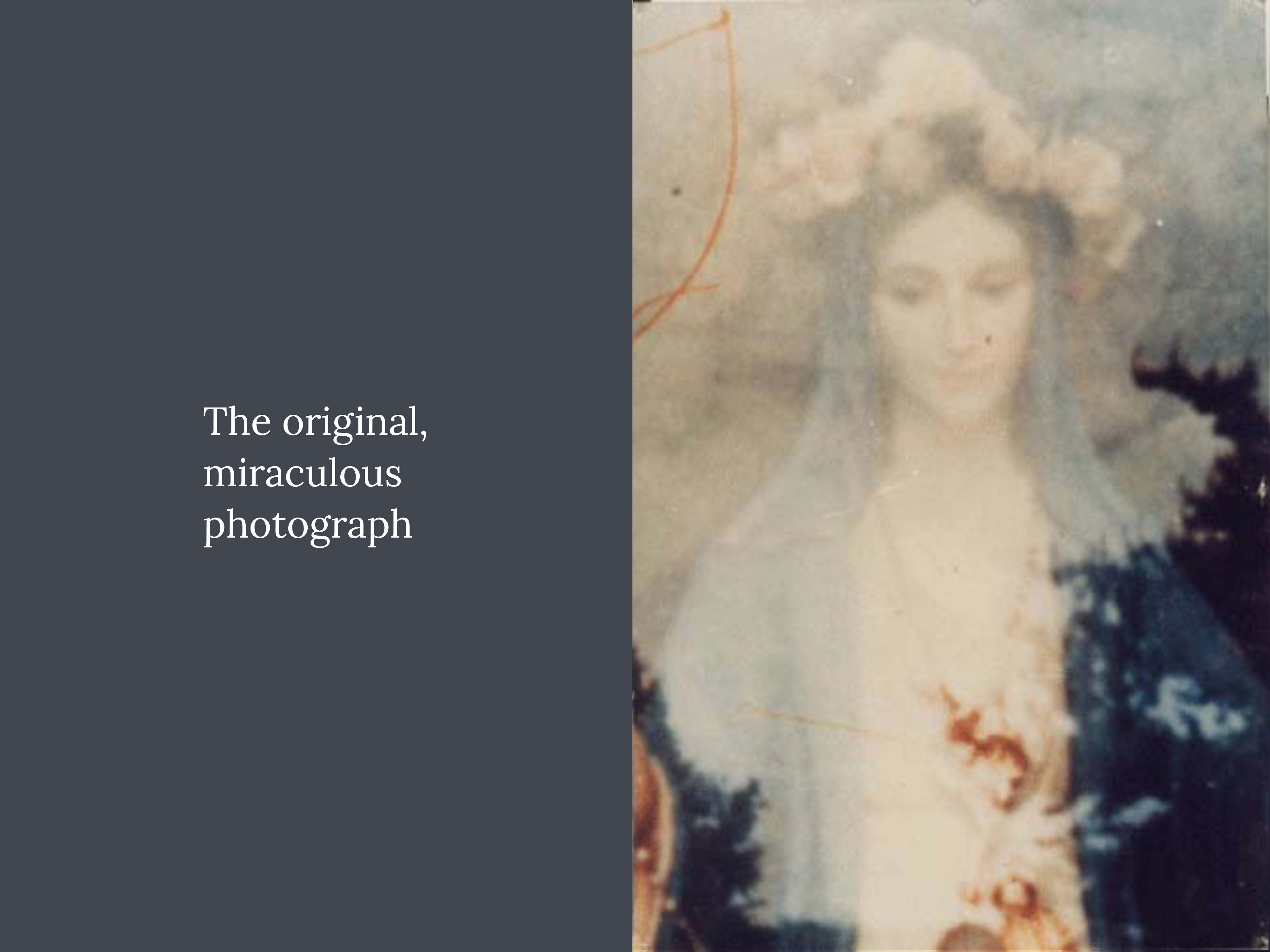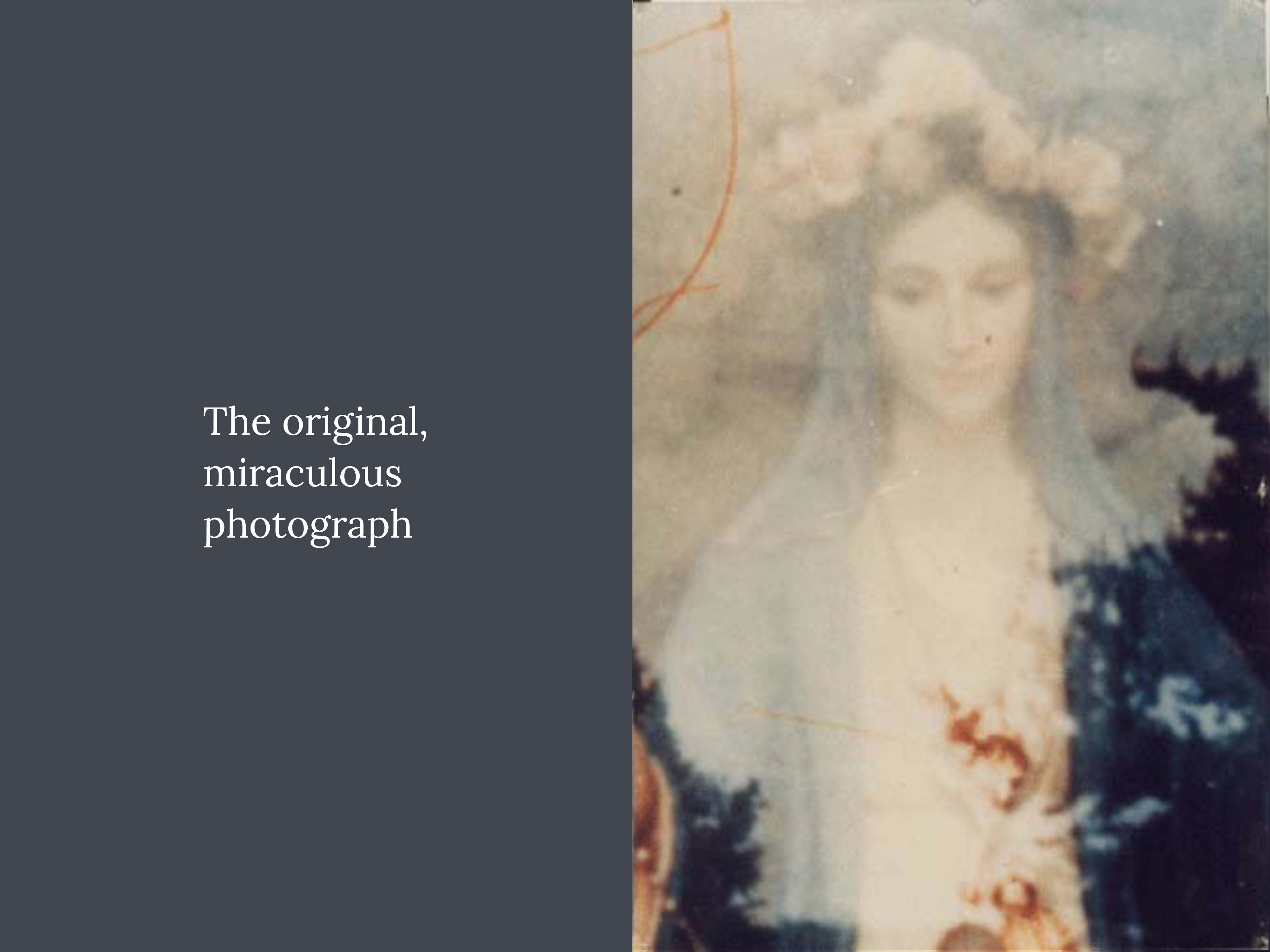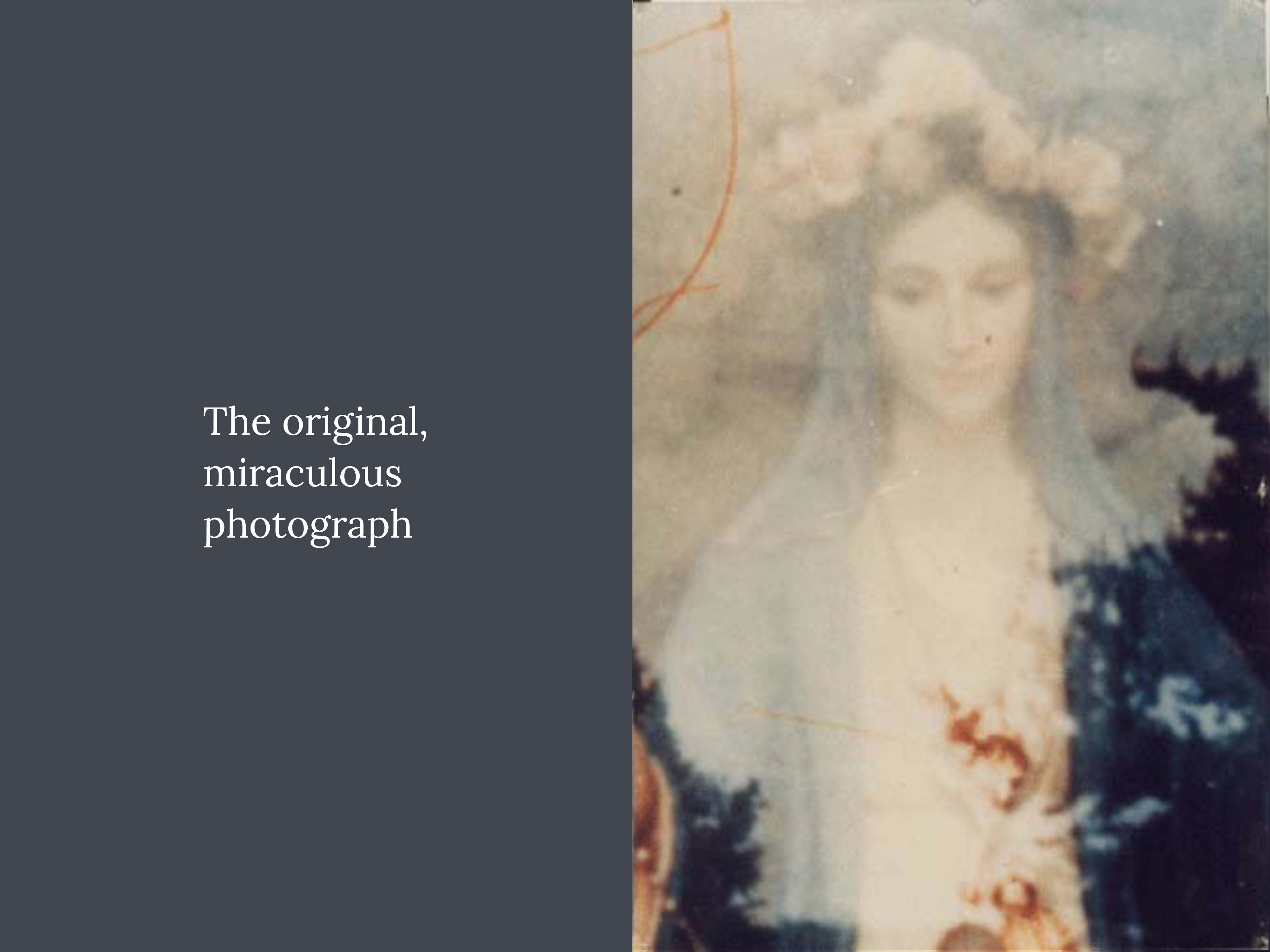 Miraculous Photograph Of The Blessed Virgin Mary
Adorn your home with art that lifts the soul, excites curiosity, and gives the feeling that Christ, our Blessed Mother and the saints are truly present! This extraordinary image of Our Lady resulted from an alleged "miraculous photograph," the details of which are mysterious.
Our giclée prints are produced using only the highest quality materials, right here in America. We use premium cotton canvas and paper, and all our materials surpass the standards set by the Fine Art Trade Guild.
Our stretched canvas is 1.5 inches deep, with mirrored wrapped edges, canvas backing and wire hanger– ready to be hung! It can also be inserted into a canvas floater frame.
Small prints are shipped safely in a clear bag with a board, then secured in a sturdy shipping mailer. For larger prints, we use tissue and kraft paper to carefully roll them up, then pack them in a strong shipping art tube to ensure they arrive in excellent condition.
INTERNATIONAL SHIPPING: We are unable to ship stretched canvases outside of the U.S. at this time. If you live outside the U.S., please select the rolled option for your canvas. Thank you!
FRAME NOT INCLUDED. Frames displayed are to help you imagine the artwork in your home and to inspire you with framing ideas– they are NOT included with your print. The thin gold frame I like to use is: "Foundry" by MCS.
Enthusiasm surrounds this captivating photograph, leaving everyone eager to uncover its story. While I wish I could provide definitive details, uncertainty lingers. My source attributed the picture to the pines of Medjugorje, and various individuals have shared remarkably similar photos taken by pilgrims in Medjugorje. Another nearly identical image emerged, however, purportedly taken in Wisconsin. The elusive identity of the photographer and the precise location of this remarkable snapshot remain shrouded in mystery. Yet, irrespective of its origins, this exquisite likeness undeniably evokes profound devotion to Our Lady, and has brought so much peace and joy to our home. May you too find solace and joy in her ethereal beauty!

The original photo I had was quite blurry, but using advanced image restoration software and hours of careful manual restoration, I was able to bring detail to the Blessed Mother's beautiful face as you see in this art print. This image holds an honored place in our home. If you decide to honor Our Lady with this art print, I encourage you to have your copy blessed by a Catholic priest and to pray the Memorare prayer when you look at it.

HOW TO PRAY THE MEMORARE:

"Remember, O most gracious Virgin Mary, that never was it known that anyone who fled to thy protection, implored thy help or sought thy intercession was left unaided. Inspired by this confidence, I fly unto thee O Virgin of virgins, my Mother. To thee do I come, before thee I stand, sinful and sorrowful. O Mother of the Word Incarnate, despise not my petitions, but in thy mercy hear and answer me. Amen."